"Talotics - The Art and Science of Digital Online Tactics for Business"
On this site I Share the experiences and lessons learned from Online Marketing my Small Business.
The techniques I used to incorporate social media into my marketing approach:
to gain new consultancy clients
sell books and ebooks
sell online training products
position myself as an Expert in my Niche
My Digital and Online Tactics - "Talotics"
---
Technical Marketing Consultancy and Support
I now offer Technical Marketing Consultancy as part of my business services.
I can help you with your technical marketing activities including: YouTube Channel Reviews, Social Media Marketing Approaches, Technical Product Showcase Videos, Technical Content Reviews, Custom Automation to automate the "Un-Automatable".
Previous clients include: SauceLabs, SpotQA, Leapwork, AccelQ
---
Adopt a Pragmatic Mindset
People often stress if they are doing the right thing. So before you even read the tactics you need to know the following:
Just start honestly
Develop Incrementally
Improve in small steps
Study the output of other practitioners
Use data to objectively measure your results
Subjectively assess your output
Develop systems as well as content
You have to love the process, not just seek an outcome
Start with the platforms you like to use
Learn to use the platforms of your target audience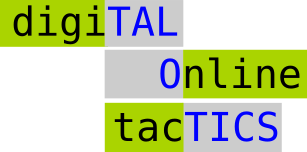 Experiments and Notes
This site is a set of experiments, notes and experiences based on Digital Online Marketing.
I'm basically describing all the tips, techniques, strategies and lessons I've had to learn while growing my Software Consultancy business.
I've had to learn how to:
market myself
create YouTube videos
write and self publish books
create online training courses
talk at conferences
write blogs
market my content via social media: Twitter, Instagram, FaceBook, Linkedin
use marketing tools
Analytics
etc.
It feels as though half of my life is spent 'marketing' my business, and I needed a medium to document that through - and thus was born Talotics.
It will evolve, as do we all.