POST
Auto Post to Pinterest using IFTTT
Author: Alan Richardson
I have not used Pinterest much, and rather than give up on it, I decided to automate it using IFTTT.
Which social media sites?
Deciding which social media sites to use is hard work and slow going:
Evaluating effectiveness based on follower growth seems reasonable
Growth on social media is slow
Growth on social media requires feeding and content
Growth on social media takes hard work
And if you are faced with a lot of sites you could target, how do you choose which ones to focus on?
Sometimes you have to try, and then rather than abandon the idea, find a way to keep it ticking over without too much effort, so we look for tools which help us post and cross-post and re-use our content. This is hardly ever as good as natively using the platform, but it might help expand your reach without too much effort.
Pinterest
I remember reading a lot of articles explaining that Pinterest was a great way to grow your profile and drive traffic to your site.
I tried to use it, but eventually gave up.
I find it is a lot easier to concentrate on social media sites that you actually use. And I didn't use Pinterest.
I thought that Pinterest was so similar to Instagram that I would concentrate more on Instagram, and automate posting from Instagram to Pinterest.
I did that using IFTTT.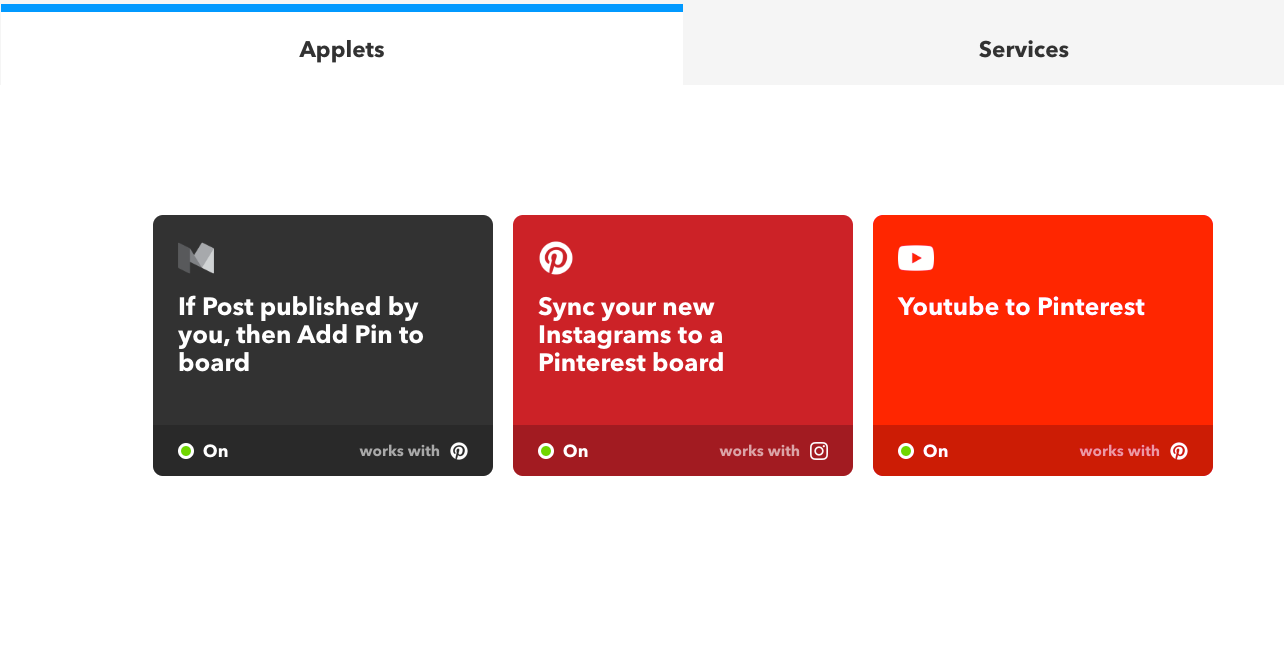 Automating Pinterest with IFTT
IFTTT is free and incredibly simple to use.
I have three automated flows setup:
Instagram to Pinterest
Youtube to Pinterest
Medium to Pinterest
I didn't write any code to set this up. I simply:
click [New Applet]
click the blue +this
choose a service e.g. Instagram
choose an offered trigger e.g. "Any new photo by you"
click the blue +that
choose a service e.g. Pinterest
choose an offered action e.g. "Add pin to board"
configure the action
job done
I'll be prompted to authorise the services as I walk through.
And this is 'configure and forget'.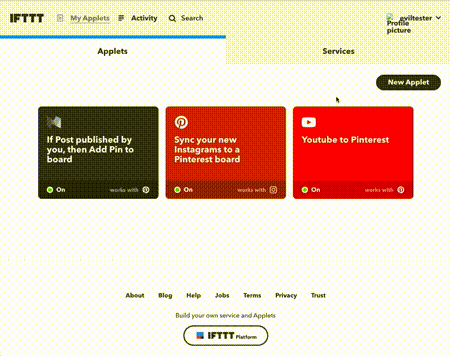 I forgot
So much so that I forgot I had set this up.
I recently went to Pinterest and was surprised to see my recent YouTube videos and Instagram posts in my Pinterest feed.
And I had to hunt around to identify how this was happening.
Follower Growth?
Either Pinterest is not a good site for my work, or automating posting in this way is not good for follower growth.
Because I still only have 14 followers on Pinterest.
Perhaps it has driven traffic to Instagram and YouTube and people are following me there. I don't know.
Benefits
There is nothing worse than a company listing a social media platform on their site. You visiting it. And seeing that it hasn't been updated in years, or there are only one or two posts. This tactic avoids that.
True, I have neglected my Pinterest profile.
But it doesn't look like it.
My last post was yesterday, and it links off to my recent YouTube videos.
It looks like an active profile.
It isn't a native Pinterest profile, since everything links immediately offsite, so I suspect it won't grow. But it is also zero maintenance.
Ticking Over
If you have a platform that you don't want to maintain, but don't want to stagnate. Using IFTTT to automate cross posting might help keep it ticking over until you see if the platform can add value to you.
comments powered by

Disqus